Our program offers an opportunity for your child to develop socially, physically, intellectually and emotionally. Choose a 2, 3, or 4 day option for your child's needs.
The Salt Creek Park District Preschool is located at Rose Park, 530 S. Williams Avenue, Palatine IL, 60074.
Meet our Preschool Teachers!
(From Left to Right) Emily Ratajczak, Kathy Schneider, Gail Walker
REGISTRATION INFORMATION:
Open registration until classes are filled.
Registration is open to all … you do not need to be a Salt Creek resident!
Child must be appropriate age by September 1, 2020.
Child must be toilet independent.
$25 deposit at time of registration is NON-REFUNDABLE.
Classes begin the week of Labor Day.
---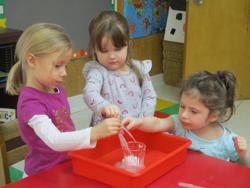 TERRIFIC THREES
This program is designed for a child's first experience in a structured school setting.  Our program offers an opportunity for the child to develop social skills, cooperative play, and fine motor skills, sharing and listening to directions.
| Code | Options | Day | Time | Fee |
| --- | --- | --- | --- | --- |
| 501100-01 | 2 Day | TU/TH | 9-11:30am | $145NR/$130R |
| 501100-02 | 3 Day | M/W/F | 9-11:30am | $195NR/$180R |
---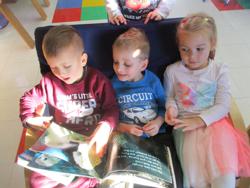 PRE-KINDERGARTEN
The 4 year old curriculum is designed to prepare your child with the readiness skills needed for entering kindergarten.  Pre-K cognitive skills, small & large motor skills, socialization, and cooperative play are part of this daily process. Enrichment activities are structured to stimulate receptiveness to language, math, art, science and music.  In this program your child is prepared for kindergarten and should be turning 5 years old during our school year.
| Code | Options | Day | Time | Fee |
| --- | --- | --- | --- | --- |
| 501100-03 | 2 Day | TU/TH | 12:30-3pm | $145NR/$130R |
| 501100-04 | 3 Day | M/W/F | 12:30-3pm | $195NR/$180R |
| 501100-05 | 4 Day | M/TU/W/TH | 12:30-3pm | $235NR/$220R |
---