DIGITAL CARTOON WORKSHOP (New)
Transfer yourself into a 2-dimensional cartoon! You & your partner will create a toon in your own images and then create a create a cartoon strip featuring custom backgrounds, speech bubbles, wacky 'toons, and special effects.  As animators, directors and producers, you'll make your cartoon adventure come alive.
Instructor: Computer Explorers
Ages: 8-12 years
Location: Rolling Meadows Community Center
| Code | Day | Date | Time | Fee |
| --- | --- | --- | --- | --- |
| 103336-02 | Tu | 10/13-11/3 | 6:00-7:15pm | $65 |
---
LIGHTS, CAMERA…TO INFINITY & BEYOND!
Buzz, Woody and the whole Toy Story gang are looking for your help with their next movie.  Now it's your turn to create your own movie using your favorite toy.  As directors ad producers, we will work in teams to create our own story and script, create your own backyard scenes and film our own movie, using your own toys.  All students will get a copy of their movie, after the class is complete.
Location:  Rolling Meadows Park District, 3705 Pheasant Drive, Rolling Meadows, IL
Instructor: Computer Explorers
| Code | Day | Date | Time | Fee | Ages |
| --- | --- | --- | --- | --- | --- |
| 103336-03 | Tu | 11/10-12/8 | 6:00-7:15pm | $65 | 8-12 yrs. |
---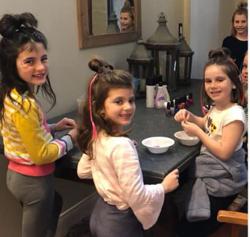 GLITZY GIRLZ: GIRLS JUST WANNA HAVE FUN NIGHT (CO-OP)
Join Glitzy Girlz (www.glitzygirls.com) for a packed night of celebration!  Gather friends and sign up for this great class of much needed girls time to make-up!  Our staff will be doing makeovers with Hair, make-up and Nails.  Each girl will decorate a cool craft with painting, jewels and a fun personalization.  Each girl also designs her very own jewelry charm bracelet with awesome beads and charms.  Our staff then leads a high energy dance party and gets the party started with great music!  Each girl leaves with a glam gift.
Location: Arlington Heights Park District, Pioneer Park
Fee: $30
Ages: 4-10 years
| Code | Day | Date | Time | Fee |
| --- | --- | --- | --- | --- |
| 103320-01 | F | 11/13 | 6:00-7:30pm | $30 |
---
GLITZY GIRLZ: DADDY/DAUGHTER ANNUAL HOLIDAY CLASS
Come join Glitzy Girls (www.glitzygirlz.com) for an annual tradition of holiday time with dad.  Our staff will be assisting each couple to make adorable gifts for family members.  Each couple will be designing (3) personalized gifts: a beaded item, ceramic craft and and wooden treasure for any kind of family recipient.  We provide personalized stamps, paints, jewels, beads and more!  A DIY unique wrapping station  adds creative ways to conceal the surprises with cards.  This class is always a treasured memory of the season!  Don't miss it this year!
Location: Arlington Heights Park District, Pioneer Park
Fee: $30 per couple / $25 additional child
Ages: 4-10 years
| Code | Day | Date | Time | Fee |
| --- | --- | --- | --- | --- |
| 103320-03 | F | 12/1 | 6:00-7:15pm | $30 per couple / $25 additional child |